About Us
Last Update: 2018-10-18
Ly Hsin Enterprise is a professional clay manufacturer located in New Taipei City Taiwan since the 1980s . We devoted itself to the manufacturing and development of the clay to educational and recreational toys. It's difference with the general clay is:

1. Texture is smooth.
2. Not sticky your hand.
3. Non-Toxic.
4. Custom made design.

We have an excellent reputation through 20 years of business experiences focus on serving customers who want to produce different type clays.

LY HSIN FEATURE TOP5:

1.Safety
All of our products are Non-Toxic and meet makeup safety standards.

2.Quality assurance
Our materials are of the highest quality standard and we guarantee this is maintained with every order.

3.Personalization
We customize all our offerings to our customers specific needs.

4.Professionalism and service
With more than 20 years experience, we understand our customers needs and communicate efficiently.

5.Customer Satisfaction
We are committed to the satisfaction of our buyers and aim to build lasting relationships for continued success.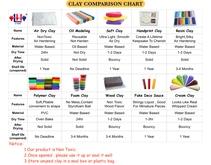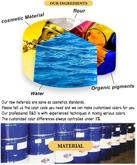 Basic Information
Company Name:

LY HSIN ENTERPRISE CO., LTD.

Business Type:

Exporter, Manufacturer, ODM, OEM, Wholesaler

Year Established:

1994

Total Revenue:

USD 5,000,001 - 10,000,000

Brand:

LYHSIN /MODOH

Main Product:

Clay,Polymer Clay, Modeling Clay, Air Dry Modeling Clay, Non-Toxic Modeling Clay Paper Clay, Baby Hand Imprint, Oil Modeling Clay, Air Dry Clay, Whipped Cream Clay, Creamy Clay, Resin Clay, DIY Clay, Cold Porcelain Clay,Super Light Clay, Soft Clay,Pottery Clay Tools,Foam Clay, Playdough,Bouncing Putty,Magic Clay, Clay Paw Prints,Sculpture clay, Jumping Clay,Clay Craft,Pearl Clay, Crystal Clay,Plasticine Modeling Clay, Art Clay,Plastic Clay,Deco Clay, Slime Material , Daiso Clay

Main Export Market:

ASIA, Australia, Austria, Brazil, Canada, EUROPE, Finland, France, Germany, Honduras, Hong Kong, Italy, Japan, Kuwait, Malaysia, N-AMERICA, Netherlands, New Zealand, Norway, Poland, Saudi Arabia, Singapore, Sweden, Taiwan, Thailand, United Kingdom, United States
Certification
Company Certification:
Product Certification:
Official Records
Official Records from Taiwan International Trade Shows
2018/07

TAIWAN EXPO 2019 in Vietnam

Booth No.: 208
Contact Information
Owner:




Contact Person:



Business Phone Number:

+886-2-32343569

Company Fax Number:

+886-2-32343578

Your Skype ID:

Line:

We Chat:

What's App:

Facebook Messenger:

Office Address:

Office Hours:

Monday-Friday 8:30-18:00

Company Website: